Are Animal NGOs Not Meant For Street Animals In Need?
On unfortunate day of 6 May 2018, a puppy was found with severely wounded front legs on the road to Baga Beach, Goa. Blood was Oozing out of his fresh wound, even the bone was visible in one of the two front legs. One car crushed his both front legs and ran away without mercy. The incident happened at around 6-7pm and due to not very encouraging facilities for animals we could not find any animal hospital or shelter open at that hour of night. After running for miles, Pup was then admitted to Wag Clinic located Bardez in Goa at around 9-10pm.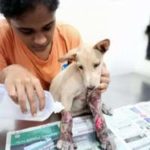 Dr, Upendra Kumar took him in his clinic and agreed to treat him and keep him till the time he is able to walk again freely. Few days of treatment & puppy began to walk.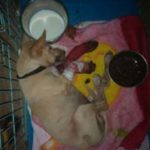 We need a lot more in India towards the welfare of animals. They are alone, helpless, staring over faces for mercy and love. Naad Welfare Foundation is a step towards saving the beautiful, lovely animals. After all this earth belongs to them as well.